"Go Be Great On Purpose" Classic White T-Shirt
Make sure the statement that you make with your shirt is seen and heard around the world, without a question of what your intentions are. #GBGOP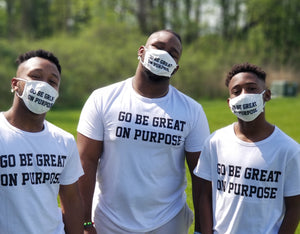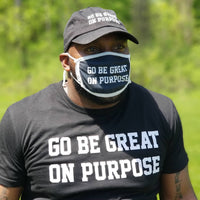 "Go Be Great On Purpose"
Go Be Great On Purpose collection. "Three's Company" Black "Dad" hat, black adjustable mask w/filter slot, and "Original Classic Black T-shirt".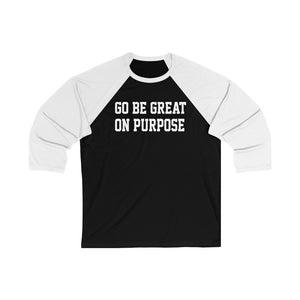 Classic "Go Be Great On Purpose" White T-Shirt
2 Time IBF Super Welterweight World Champion Cornelius "K-9" Bundragae representing with his white shirt and white mask.
Classic "Go Be Great On Purpose" Classic T-Shirt
The "GBGOP" Classic T-Shirt can be worn anytime of the day, for style or for play. Whether your an athlete or someone who likes to be home with a book, your message will be seen and heard loud and clear.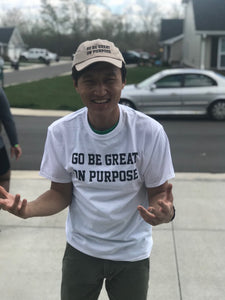 "Moms Love Dad hats"
The "GBGOP" dad hats are very comfortable and come in several different colors. Ranging from white, black, khaki, navy blue, and pink. Let your hat do the talking for you.
The "Go Be Great On Purpose" Fanny Pack
Men and women alike enjoy this versatile utility bag.The "GBGOP" utility bag has three pockets with zippers and a adjustable strap, is exactly what you need to keep all your items but keep your hands free.
True Testimonials
Man people go crazy when they see me in this shirt, they love the message. I need some more for my momma and family.

J'Leon Love
I love the shirts because it speaks for itself, I don't have to talk the shirt does the talking for me.

J. Strong
I can wear the shirt whether I'm working out or going out and I love the peoples response to it when I wear them. Every time you drop a new one I'm getting two because I wear them all the time.

David Jasso
WBC Super Welterweight Champion

Tony "Superbad" Harrison @MadeinDetroit
WBC Super Welterweight Champion
Tony "Superbad" Harrison @MadeinDetroit